Tournament on Par Raga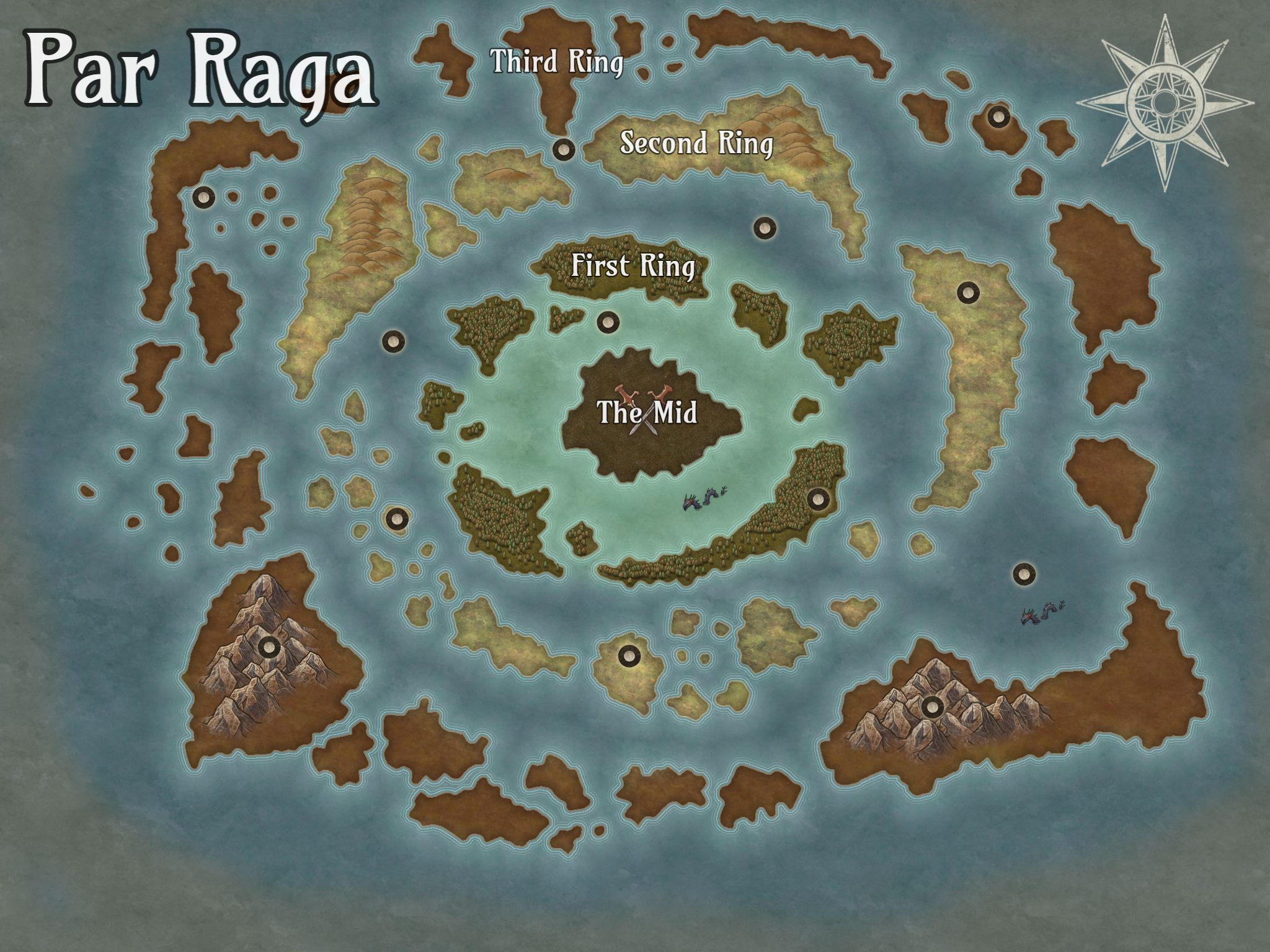 1 cm on the map = 50 km in game
Welcome to Par Raga! The island plane comprised of three island rings and an island in the middle, called The Mid.
The first ring is all unexplored jungles and dark forests with dangerous and deadly inhabitants. The second vast plains and hills and the third is rocky with tall mountains.
You have been chosen by a mysterious entity to participate in the grand tournament. Your goal is to get to the Sword of Gods that is located on The Mid and be the last man (or woman) standing in the tournament. You are allowed to take a group that will help you on this dangerous adventure.
This is how it's going to work:

Phase 1 a): Your Characters
Create a lead figure and a group, that is going to follow them throughout Par Raga. The lead must be a legendary creature. The other cards should not be legendary, but it's ok if you make for example a companion to the lead, a friend or a legendary settlement. The main point is that it is not supposed to be a group of legendaries.
Your group can range from random mercenaries, team of knights to a religious organisation or a flock of harpies, your imagination and these rules are your only limits. Also note that the lead should be a sapient creature (it wouldn't really make sense otherwise)
The group must follow your lead's color identity like in a commander deck, the lead can be max three colors
It is recommended that the group has a certain theme going
Create cards for your group - it can include creatures (beings that are following your lead in the tournament), artifacts (gadgets that you're taking with you) and lands (maybe you start from a certain settlement). Enchantments, instants and sorceries are saved for phase 2. Planeswalkers are banned. Post the cards here.
You can post from 3 to 7 cards and please do it all at once. No old cards (only cards created specificaly for this Saga)
NO JOKE CARDS
PLEASE take serious attention to the wording, text and overall design of your cards
It will be nice to also post an explanation of your group with the cards. Who are they? Who is the lead? Engage your lore cells
Phase 1 b): Starting point
Along with the characters please choose a starting point for your group. This will be important in Phase 2.
Your starting position MUST be in the third ring and can't be in close proximity of an Orb (marked clearly on the map with a circle). The minimum distance from an Orb is aproximately 2 centimeters on the map.
Phase 2 a): THE TOURNAMENT BEGINS!
Once there is enough participants, the tournament shall begin, which will be clearly stated by me in the discussion
Now the game will go about in turns. Each player states their intention for the turn and shows it by a card. This can be a sorcery, instant or an enchantment showing the action your group takes. This can include moving to another location, cutting down trees and building ships, building a settlement, healing, gathering food, preparing for a battle, whatever you want to do at the moment.
The action needs to make sense as possible in one turn. You can't move your group more than 50 km (1 cm on the map) in one turn for example.
After all players have taken their turn, the new one begins.
Phase 2 b): The objective

Now to the Orbs. These are placed around the map and are you main goal before aproaching The Mid and going for the Sword of Gods. Each Orb is guarded by a challenge.
Whenever your action for the turn results in your group approaching an Orb, I will present the challenge represented by a custom card and you will have to respond by a solution (also represented by a card, in your case it again has to be an instant, sorcery or enchantment). The solution needs to be in the theme of your group. For example if you run a mono-white cleric organisation, you cannot pull out a burn spell to deal with the creature guardian.
I will determine whether you passed the challange based on a number of criteria. The card needs to look good and be balanced while also serving as an effective answer to the threat you are presented with. For example if there is a 3/3 guardian Golem by one of the Orbs, you can try to take it down with a flavorful burn spell.
If you fail an Orb challange, I will determine your fate
The Orbs do nothing for now, but will be useful in Phase 3
You can't collect Orbs, that have already been collected by another participant (duh
Phase 2 c): The world and other players

You might also be presented with random challanges from the world itself (for example a herd of animals, sandstorm, regular storm, etc.). These will work similarly to the Orb challanges.
It can happen that two players' groups meet. In this case the players themselves will decide, what they are going to do. Silently back out? Attack each other? Talk? Your choice.
If this occurs, one group will be the one who's action resulted in the meeting (in other words they walked to the other group). When this happens, the other group will have the first move - make a card (instant, sorcery or enchantment) that represents your action and the coming group has to respond with their card. The result of the confrontation will be judged by me depending on the same criteria as above
Phase 2 d): The Mid

Phase 2 ends when one of the players successfully gets to The Mid and takes out the Sword of Gods. I'm not going to tell you much, but it will not be easy. Note that you can approach the island with no Orbs, but you are very likely to fail very very quickly.
Once a player has laid hands on the Sword, phase 2 ends immediately and all other groups are teleported to The Mid for the final confrontation. Of course the group with the sword will have a huge advantage.
Phase 3: THERE CAN BE ONLY ONE!

The final confrontation will play out just like Phase 2, but this time everyone is very close to each other. Your goal here will be to kill all other leaders and stand as the last one and with the Sword of Gods in your posession. The Sword itself will be very useful (how, that you will find out once you get it) as well as the Orbs that you collected. Those can also be useful in getting to the island.
Once there has been a clear winner, it will be announced and the Saga will end. The winner will be awarded by a lot of favorites and a follow.
And now - LET US BEGIN!

Jeez, this thing is long... Well, hope you get it and will have fun.